COVID-19 Student Volunteers at Mount Sinai
We are a student-led workforce from the Icahn School of Medicine at Mount Sinai addressing COVID-19 specific needs from throughout the Mount Sinai Health System in order to reduce burdens on the healthcare system. We operate through a Task-Force based organization.We were initially activated from March 15 - June 15, 2020, and after a period of dormancy, we reactivated on December 15, 2020. We are currently assisting with the COVID-19 Vaccine PODS throughout the Mount Sinai Health System in a variety of different roles.
Subway Summit: COVID-19 Student Response
Summit Schedule (MAY 9, 2020)
| | |
| --- | --- |
| 2-2:20 | Plenary/Opening Remarks |
| 2:25-2:55 | BREAKOUT SESSION 1 |
| 3:00-3:30 | BREAKOUT SESSION 2 |
| 3:30-4:00 | Closing Discussion |
Breakout Sessions
| Topic | Description |
| --- | --- |
| Telehealth | In this session we will address what different types of telehealth programs are possible and how to manage them. |
| PPE Distribution | In this session we will address how we sourced and distributed PPE and what our roles in this process have been. |
| Student/Resident Wellness | In this session we will address how we have promoted wellness among students and residents. |
| Clinical Volunteering | In this session we will address how students can integrate with clinical teams to assist with patient care more broadly. |
| Community Outreach | In this session we will address what kind of programs we have developed to outreach to our communities. |
| Addressing Inequities | In this session we will address how we can structure programs to address inequity/promote equity in the healthcare system. |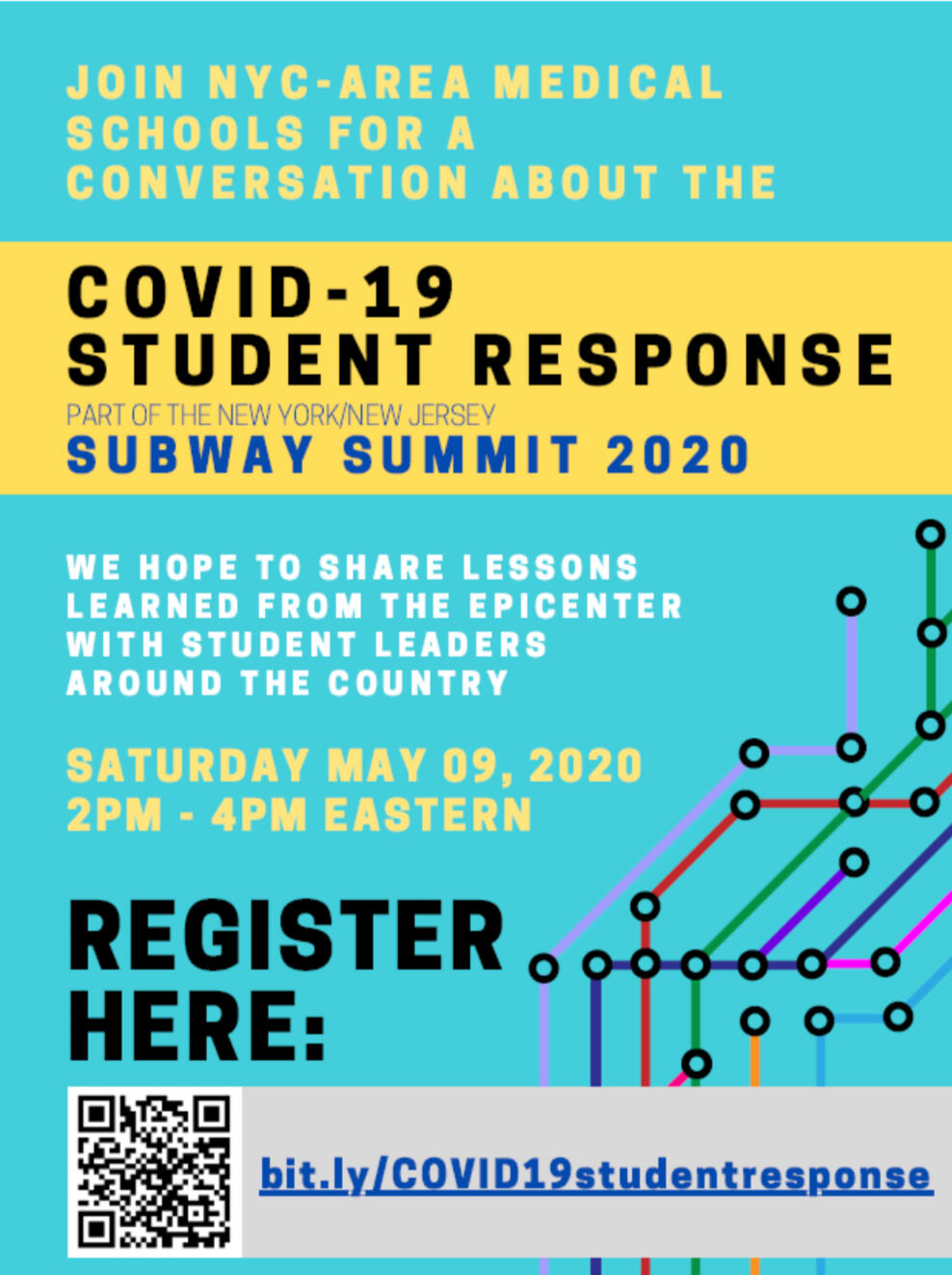 Documenting the Response
Please read these instructions before uploading
In January of 2020, COVID-19 cases began to surge around the world, and the concept of "Coronavirus" started to creep into our collective thoughts. Coverage on news outlets and social media feeds crescendoed to a deafening majority, and seemingly drastic containment measures— from prohibiting large gatherings to complete social isolation— became the new normal. By March of 2020, New York City became the epicenter of the disease outbreak, and our nation's collective efforts refocused to stemming the tide of the virus' spread on our own shores.While this narrative is familiar to all living amidst this global pandemic, our own story— of a group of to-be medical professionals caught up in the center of it all— is not. Thanks to your efforts, a variety of projects powered almost entirely by volunteer-hours are well underway across the city. These tasks have been crucial to maintaining our health system's capabilities throughout this crisis, and our presence has added a glimmer of positivity to an otherwise dark situation. The story of our involvement stands in stark contrast to the grim reminders repeated on our television and computer screens. Because of this, I believe it is our duty to capture these efforts from our perspective and share our story as it unfolds. To accomplish this, we need your help.Each of us volunteers has a section of the story to capture, and respectfully documenting our efforts will allow us to piece together this narrative through a series of short media projects. If you are interested in contributing, please see the instruction-sheet above for information on recording video and uploading files. If you would like to be interviewed for these projects or contribute to their direction, please reach out to Phillip Groden personally. Thanks to all of you for taking the time to read this message and for all of your amazing work thus far.These recordings will be utilized to create future video projects aimed at highlighting the amazing work our volunteer force has and will accomplish(ed).If you have not done so already, we encourage each of you to record at least one video that captures a salient aspect of your life during these unique times— whether that is volunteering through one of our many tasks or simply going about life in the center of a pandemic. Please see the attached sheet here for tips on recording footage.The work we have completed so far is beyond motivating and represents a story that deserves to be told. Thanks to each of you for all you do!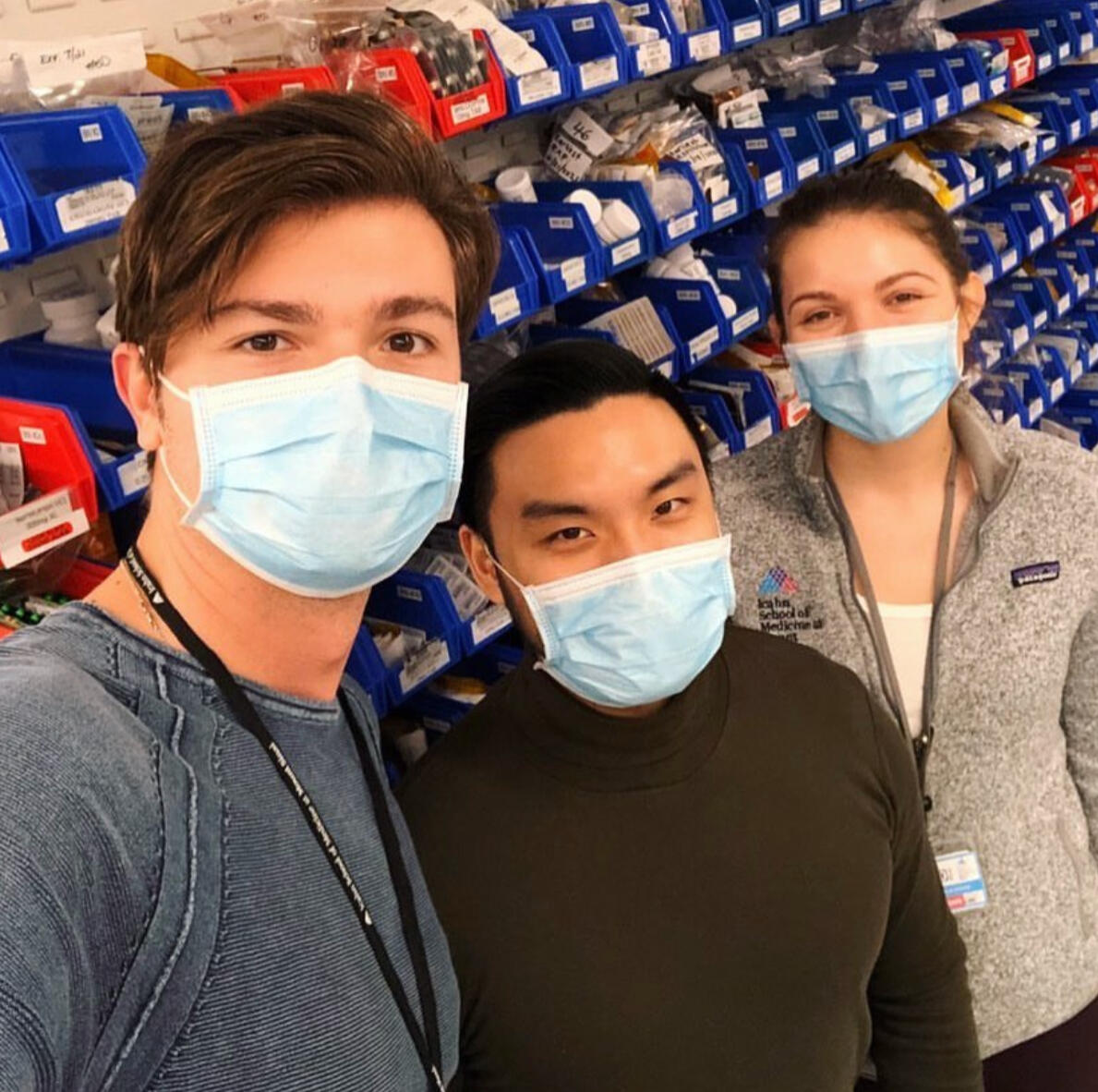 About Us
We regularly meet with the administration to receive, triage, and coordinate requests from the MSH Health System. We are also seeking ways to integrate the work done during the first peak of COVID-19 into existing infrastructure within the health system and school.We have now reactivated according to system-wide Emergency Preparedness policies to assist with the COVID-19 Vaccine Pods. With flexibility in mind, we have created a WorkForce structure with appropriate escalation pathways to address existing and anticipated needs.
COVID-19 Student Volunteer Leadership Team:
WorkForce Leaders: Rohini Bahethi (MS4) and Benjamin Liu (MS4)
Triage Leader: James Blum (MS4)Task Force Leaders:
MSH: Samantha Stein (MS4) , Arman Azad (MS1), Matthew Gluck (MS2)
MSBI: Raia Blum (MS4), Akila Pai (MS4) Julia Zhao (PhD-Cand)
MSW: Serena Zheng (MS3), Theodor Di Pauli von Treuheim (MS3), Varun Sabarwal (Masters' Student)
MSM: Vasanthan Kumaraswamy MD (Masters' Student) , Liam Cotter (Masters' Student) Rachel Waldman (MS2)
MSB: Ricardo Reyes (Masters' Student), Ishan Paranjpe (MS3), Christos Saizedes (PhD-Cand.)
MSQ: Jeanpierre Tenesaca (Masters' Student), Sahi Thapi (MS4), Hannah Munkacsi (Masters' Student)
Help in the Hospital
Mount Sinai healthcare workers, please review our Policy for WorkForce Sites and request help using the above "Request Help" link!
Students , please review our Student Volunteer Info and Policies and Onboarding Information in advance of signing up and please fill out our post-task feedback form upon completion of your task.
Opportunities to be involved are organized by site. The sites we currently operate at are:
- Mount Sinai Hospital
- Mount Sinai Morningside
- Mount Sinai Queens
- Mount Sinai Beth Israel
- Mount Sinai West
- Mount Sinai Brooklyn
Help Outside the Hospital
We are not currently accepting new tasks or volunteer sign-ups. However, should the need arise, we anticipate similar organizations and structures will be created.Sinai Together is an ad hoc group of medical and graduate student volunteers helping healthcare workers with child care, dog walking, errands, etc. This is not endorsed by or provided in association with the Icahn School of Medicine at Mount Sinai.
The Morale Task Force will support our peers and eventually mentors, colleagues, and teachers during the coronavirus pandemic. Examples of work might include: reaching out to local restaurants willing to contribute free meals to volunteers, creating community-building platforms, generating inventories of at-home online workout videos, etc. A database of online resources created by the task force is available under Resources.Want to submit a video expressing your gratitude for our student volunteers? Click here and go to this folder!
The #OneHourOneLife campaign is designed to respond to the problem that NYC, and the nation, is facing a massive blood shortage in the next two weeks in light of all blood drive cancellations, with a loss of nearly 75% of incoming donations. Students are encouraged to check their eligibility for donation and sign up for an appointment to donate blood at their closest center, which have also implemented social distancing measures to mitigate exposure risk between staff and donors. If you've donated already, please fill out our donor form and send or tag us in photos, videos, or any other content on Instagram.The COVID Blood Response, a Sinai student-led initiative, is also partnering with a group of students at Mount Sinai on the new #Lifttheban campaign. Click here to learn more about our advocacy efforts to eliminate the deferral period required for men who have sex with men (MSM) to donate blood and plasma and sign our petition here.To find out how to donate to our upcoming Sinai NYC Blood Drive, or get involved in our advocacy efforts, please click above or check out our Instagram page below:
Other initiatives
Outside of the WorkForce, our classmates and peers have started some incredible initiatives and we wanted to highlight them here!"Never Alone" is a partnership led by Taylor Harrell (MS1) between medical students at ISMMS and Emory University, is a letter-writing initiative designed to support mothers experiencing labor and delivery with a limited support network, and for physicians in Obstetrics and Gynecology facing increased demand with limited resources during the COVID-19 Pandemic. To get involved, click here!"Support Patients at EHHOP during COVID-19" is a fundraiser led by Jenn Dias (MS1), Alison Pruzan (MS3), James Blum (SY), Brittany Glassberg (SY), Yash Maniar (MS3), Jonny Pan (MS3), Kevin Weiss (MS1), Ezequiel Ramos (MS1), Madeline Lui (MS1), Eliott Kim (MS1). The East Harlem Health Outreach Partnership (EHHOP) is an attending-supervised, student-run free clinic, serving low-income, uninsured residents of East Harlem. We are raising funds for our patients, many of whom are ineligible for government assistance, through a GoFundMe for cash assistance grants and food deliveries. To donate, click here!Don't see your initiative here? Fill out our form and we will include it!
Stories
We want to share some exciting progress happening across our task forces. To get involved, please visit our contact page.
Article Published In Academic Medicine - Bahethi RR, Liu BY, Asriel B, Blum JR, Huxley-Reicher Z, Agathis AZ, Pathak S, Sainté Willis M, Muller D. The COVID-19 Student WorkForce at the Icahn School of Medicine at Mount Sinai: A Model for Rapid Response in Emergency Preparedness. Acad Med. 2020 Dec 1. doi: 10.1097/ACM.0000000000003863. Epub ahead of print. PMID: 33264110.Press Feature in Medium - "These NYC Medical Students Are Mobilizing to Help Fight Coronavirus" featuring Benjamin Liu, Harinee Maiyuran, Christopher Park, Annie Arrighi-Allisan, James BlumWellness and More - Morale Task Force
(4/27/20)The Morale Task Force has been hard at work, creating many events to create a sense of community and promote wellness among our Sinai FamilyFun events such as the wine tasting with a sommelier, game nights, and drawing tutorials.
Have been overseeing the distribution of catered meals (100s!) to students and donations of leftover meals to residents and hospital staff.
Thirty volunteer students are staffing the Office of Well-Being and Resilience's Resource Navigator Phoneline (led by MS3s Raia Blum and Sanchita Raychaudhuri).
Through the Love Letters initiative, thirty student volunteers pen letters to residents of nursing homes to express support during their extreme isolation.
The Gratitude Board initiative, coordinated by Rachel Wilkinson (MS3) and Priya Dave (MS2), collates short, anonymous messages of gratitude to and from the student body and publishes them as part of the weekly Morale Task Force newsletter.
Wilkinson says, "It's been a lot of fun seeing what people are feeling grateful for these days, and getting to email people individually about getting a shout-out. It's such a simple way to help cultivate gratitude in our own lives and spread messages of appreciation to others in our community."Task Force Leaders: Annie Arrighi-Alisan (MS3), Ella Cohen (MS1), Katie Donovan (MS3)Supporting Novel COVID-19 Research Efforts - Labs Task Force
(4/20/20)The Labs Task Force works closely with clinical, microbiology, pathology, and genetics labs to assist them in their COVID-19 research.Our tasks range from contacting former MSH COVID patients to see whether they would be interested in donating plasma that will be used to provide antibodies to current COVID patients; to following up with patients who have been treated with tocilizumab and tracking their progress in chart reviews; to purifying COVID DNA plasmid in labs skeleton crews. Our newest task partners student volunteers with Sinai's Multidisciplinary Biobank, where they serve as "runners" onto the COVID-positive units to collect completed biospecimen samples from patients to aid clinical genomics research.Carina Seah (MD/PHD MS1), a Volunteer for Tasks #61 and #70 reflects:
"I perform data collection and analysis for patients who have been treated with either convalescent plasma or tocilizumab. We go into patient charts and collect relevant information, such as number of intubations, length of stay, and oxygen devices. Then, I have been using R to visualize trends in these values and scraped lab values over time. The scientist in me is fascinated with evaluating the data to determine if our treatments are working, and the medical student in me has been touched by reading cases and cases of notes describing the patients' experiences and indirectly reflecting the experiences of those on the front lines."Labs Task Force Leaders: Michael Fernando, Neuroscience PhD2, and Maddie O'Brien, Neuroscience PhD2
Feature in Spectrum News NY1: "Medical students come to aid of COVID-19 healthcare workers" (4/13/2020) featuring Katie Donovan
Feature in Mount Sinai Today: "A Snapshot of the Extraordinary Contributions of Mount Sinai Students in COVID-19 Efforts" (4/13/2020)
featuring WorkForce Leadership, Samuel Paci, Mark Roberto PhD, Sindhura Gopinath PhD, Jeremy Nussbaum, Marc Casale, Meygan Lackey, Rebecca Rinehart, Sarah MacLean and Melissa Hill
On the Trail of COVID Patients - Telehealth Task Force
(4/13/2020)From Catalina Angel (MS4):
"As part of the Elmhurst telehealth team, I follow up with coronavirus positive patients, discuss their symptom progression, give guidance on infection prevention, and make sure they get further medical attention if they need it. I am grateful to be able to assist our patients as they navigate home isolation, and to talk through what their individual experience with covid has been like. It has been educational for me to see the range of ways COVID presents, both in terms of symptoms and in terms of severity. I'm very excited to continue working with Elmhurst's student volunteer team!"The H+H system, of which Elmhurst is a part, needed help calling patients to inform them of their COVID test results. Our team is made up of students from all years of medical school as well as graduate students, and we have been making daily calls to patients to give them their test results and check in. We have made over 4,000 calls in just under two weeks of operating, and we're really excited to be able to help the public hospital system, which has been disproportionately affected by COVID.
Task Force Leaders: Harinee Maiyuran and Sidra Ibad
Ventilators, Clinical Trials and the Blood Response - Operations Task Force
(4/6/2020)Alex Kalicki, Task 22 "Team Ventilator":
"I've really enjoyed learning the finer details of how a hospital runs with the Operations team (task #22) these last 2 weeks. Under the direction of Amanda Klager, we've pitched in on a variety of tasks including the unloading and transport of newly delivered ventilators, delivery of packages throughout the hospital, and the assembly of dozens of IV poles and Vapotherm High Flow Nasal Cannula machines. Recently we have been assisting Drew Copeland's team as they rapidly engineered a method of transforming bipap machines donated by Tesla into functional ventilators that can be used on patients. Our team of students wrote the assembly guide and operation instructions for the circuit and will be assisting with the assembly of hundreds of units this coming week so they will be ready to use if needed."
Alex Yu, Task 36 "Team Clinical Trials":
"Although I was not there to witness it, another fellow volunteer (Dan) had a very busy day couriering samples and trials drugs between locations, reporting hours between 9:30 am to 6:15 pm. He comments that it was an "intense, eye-opening experience" and "felt for the first time I was doing my small part to help with the response to the pandemic. Prior to this, I had no idea how the day-to-day operations of a clinical trial work, or the amount of effort that goes into caring for COVID-19 patients."
The Blood Shortage Team has been leading an effort to help offset the blood shortage crisis resulting from suspension of all mobile blood drives.
Within two weeks of rolling out a personalized and extensive social media campaign, we've helped raise over 9L of blood products, disseminated the message to various social media channels (including the Mount Sinai Health System's), tentatively planned a blood drive for when the crisis abates, and began setting up a direct collaboration with NYU.
The one-year restriction by the FDA on MSMs (men who have sex with men) has been reduced to 3 months. While this represents a step in the correct direction, we as medical professionals must be cognizant of how a ban of any duration on this population is based on misguided and discriminatory policies; these policies were set in place in the 1980s when practically nothing about HIV/AIDS was known, and was later reduced to an arbitrary 1-year cutoff in 2015. We now have HIV tests with >99% sensitivity with a median window period of a mere 1-2 weeks, making the current restriction still problematic. Read more here. If you or someone you know can now donate under this change, please encourage them to do so!
As always, follow us on Instagram @covidbloodresponse and visit our website for more information on how to donate!
Blood Shortage Subtask Force Leaders: Amy Ahn, Chris Park, Sulaiman Somani
Volunteers: Aislyn DiRisio, Vedika Kumar, Akila Pai
Leaders in Personal Protective Equipment - PPE Task Force
(3/30/20)
Stephanie Schonholz, leading PPE distribution at Mount Sinai Morningside, says:
"I have been working with teams of 20 to 30 student volunteers to help ensure medical staff at two hospitals in the Mount Sinai Health System have the PPE they need to care for the increasing number of patients diagnosed with or at risk for COVID-19. On one team, students are stationed outside a hospital's ICUs 24/7, handing out masks to medical staff entering the units and tracking the amount distributed. On another, students are trained and then work in groups of three from 7am to 2am at both sites to perform fit testing of a new model of N95 respirators for all of their providers. Despite our lack of medical licenses, these have been concrete ways that we, as students, can support the Mount Sinai community in their efforts to save as many lives as possible."Our PPE Task Force has been essential this past week aiding hospitals across the health system by collecting, delivering, distributing, fitting, and EVEN designing personal protective equipment. We've listed the names of those on the Force below, but keep your eyes open for a detailed shout-out later this week. If you see any of them, feel free to give them a virtual fist bump or air high-five (of course from > 6 feet away).PPE Task Force Leaders: Stephen Russell (MS3) and Annie Arrighi-Allisan (MS3)
Press Feature in AAMC News "Bright lights in a dark time: Medical students step up to help out" (4/2/20) featuring Rohini Bahethi, Ben Asriel and Shravani Pathak
Press Feature in The Gothamist "Med Students Find Ways To Support Medical Workers As NYC Hospitals Fill With Patients" (3/31/20)
featuring Michael Duncan, Shravani Pathak and Stephanie Schonholz
The Calm Before the Storm - Pharmacy Task Force
(3/20/20)
The volunteers of the MS Beth Israel Pharmacy Task Force responded to our healthcare system's call to action within 24 hours of the request last week. Their team includes a range of 11 students who have demonstrated an impressive amount of resilience and flexibility, working through weekends and night shifts during the NYC quarantine.When asked what it's like at Beth Israel, Site Leader Meygan Lackey (Scholarly Year) says:"It's like the 'calm before a storm'. As with other hospitals in NYC, Beth Israel is preparing for the coming surge, converting scores of units for potential COVID-19 patients and managing the drug supply. The hospital has already placed its supply of albuterol under lockdown and has labelled hydroxychloroquine as a "controlled substance". Unfortunately, experimental treatment medications such as tocolizumab are already in short supply and staff have begun rationing medications, making difficult choices to determine who 'qualifies' for treatment. Given these circumstances, our team of 11 volunteers have a crucial role to document and track COVID-19 medication usage rates, and give input on COVID medication protocols based on our work."
Contact Us
Please reach out to [email protected] with any questions about the general organization.For press inquiries, please contact the Mount Sinai Press Office at Public Affairs at (212) 241-9200 or [email protected]If you are a department or administrator at Mount Sinai and need to request student assistance, please fill out this form.To report mistreatment, please use this formFor all other inquiries, please reach out to us below!
Resources
Some of the below resources may not be actively maintained.COVID InformationKeep up to date with the latest COVID information:
- WHO COVID-19 Page
- CDC COVID-19 Page
- NYTimes Coronavirus page
- NEJM COVID pageResources for Other Institutions
Interested in our organization and setting up a Student WorkForce at your own institution? Here are some helpful templates that we use within our own WorkForce to help you get started!:
- A copy of our internal gDrive folder
- Reach out to us for any additional QsPPE Donations
Know of anyone that has extra N95 masks, regular masks, gloves or gowns? Have them contact [email protected] to coordinate PPE donations!Have extra cloth masks? Mask Transit is a student-founded student-run organization with the goal of getting cloth masks to vulnerable populations that are especially at risk of contracting COVID-19.Community based initiatives
We encourage you and your friends to donate to local food pantries and take advantage of any community-based initiatives in your area. In addition to supporting our healthcare system, we need to support each other and our communities.
- Food Bank NYC
- Blood DriveSelf-Care
The Morale Task Force has created a database with lots of online resources for self-care! There are cultural events, mental health resources, workout resources, and links to online games.
Calling our Med School Peers!
Are you a medical student at another institution interested in setting up or expanding your workforce? Here a quick presentation giving an overview of our organization structure and internal infrastructure. We'd love to support you starting and growing your own COVID-19 student workforce, please reach out to [email protected] if you have any questions!